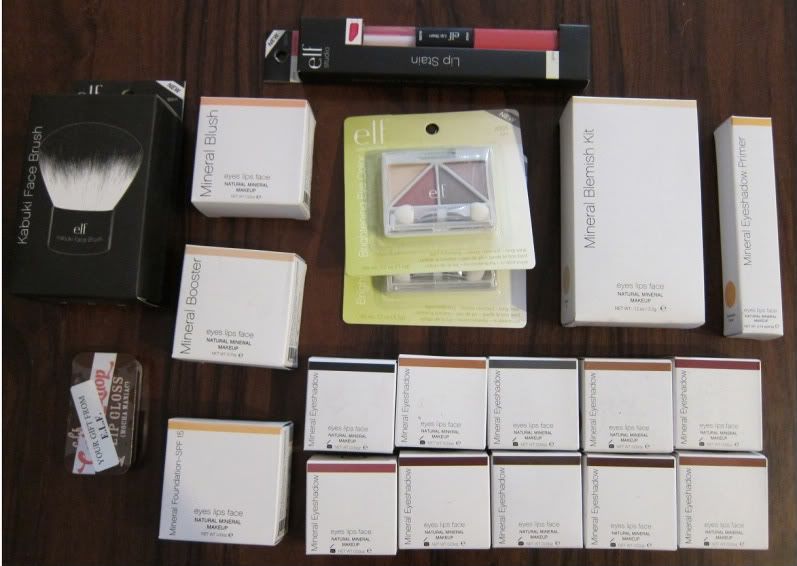 I made my first order to e.l.f. after my post the other day about their
time-limited sale
. E.l.f. is really my kind of brand! They're super cheap, have tons of promotions and coupon codes available, and an entire mineral line that's free of talc and parabens! They shipped super fast (I received my order 3 days after placing it) and everything I've tried so far works nicely!
The total for my entire order (all you see in the photo) including $6.95 shipping was only $39.95! For 10 mineral eyeshadows, 2 eyeshadow pallets, eyeshadow primer, mineral foundation, mineral powder, mineral blush, mineral blemish kit, lip stain, kabuki brush, and a free gift of lip gloss (got by giving up 3 email addresses - which I don't recommend you do to anyone you like because they will be flooded with emails!) Considering comparable brands charge $28 for one single mineral foundation, this is beyond cheap!
There were various codes available, including the 50% off one I posted about, but the one I ended up using got me 10 free mineral eyeshadows! Yes, TEN!! What am I going to do with 10 shades of eyeshadow when I'm predictably boring and always use the same color every day? Who knows. But I couldn't pass up the deal. The code is
10SHADES
and requires a minimum $30 purchase. Add at least $30 worth of stuff you want, then add 10 eyeshadows, then add the promo code. It will remove the price of the 10 eyeshadows (which is $30) leaving you with your original total and 10 free eyeshadows!
I also subscribed to their mailing list under an email address I didn't order with, and they've been sending me tons of promo emails tempting me to place an order. I'm thinking they have special email deals they send to people who HAVEN'T ordered yet, so the deals are limited to first-time buyers. I suggest signing up if you're looking to place an order, and order when a good deal strikes (they've all said "expires in 48 hours"). I've been getting emails every day, and every day it's different. They're also different from the emails I'm getting at the address I DID order with... complicated!
Anyway, I think the first-time buyer deals are probably not ones everyone can use. But in addition to the
10SHADES
coupon, the following deals should be valid for everyone:
- Free mini makeup collection ($80 value) with $10 purchase or more. Use code
MINI
expires 10/25
- 10% off your order
EGTENAZ
no known expiry
- 50% off the first $15 of any order (max $7.50 off)
GTLHW2
expires 10/31
- 50% off eye makeup and brushes (I hear it's max discount of $100 - huge!)
EYES50
expires 10/31
- Buy one get one half off everything (must buy two of everything)
ECD17
You might also want to try this code for $1.98 shipping on any order over $15:
ECD6
- but I'm not sure if it will work for everyone. Don't forget that you can only use ONE coupon code per order, so choose wisely! There is no Ebates cash back available, but
MyPoints
users will get 3 points per dollar.
Happy shopping :)